Somehow last month was a blur! I blinked and June was history! Please accept my apologies! I feel like I spent the month (when I was not at work) letting the four-legged children in and out! Some have suggested a doggie door, but when your home is guarded by Samson Security Service a doggie door would have to be very large.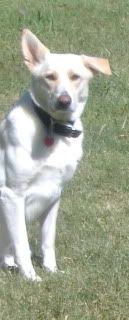 This is a guy who takes his job seriously! He is a lot bigger now than in this picture. Samson is all muscle and quite the athlete. He runs and runs in the backyard, constantly building up those muscles.
He can open the back door when he is outside (unless you slam the door really hard and have your foot on the bottom of the door when you slam it). If he hears me leave the room he comes in to make sure he is not missing out on anything! So I immediately have to stop what I am doing and go to the back door to close it. He beats me to the back door and is out in the yard again.
A doggie door does sound nice but it would be so expensive to have one made that did not allow a human being to also come in. If someone was crazy enough to crawl in, I seriously doubt they would be leaving in the same condition. Samson is one lovable guy, but being all German Shepherd he would immediately let the intruder know they made perhaps the biggest, most stupid mistake of their life!
Samson's favorite thing is to open the back door, come in and sit down to eat while intently watching the backyard. Maybe I just need to install a nice glass door (that opens and closes automatically) for him so he can see in when he is outside and see out when he is inside. LOL! I think Sasha and Sweetie would enjoy that also. Hmmmmm... wonder if that would cut down on the wear and tear of my body and on the door? Dreaming!!
Somewhere in the blur of last month, I found a little time to knit. Never enough time though!! I need to take a picture of a scarf I made last month. It was so much fun that I am going to make another one but use three colors instead of one. It involved knitting in the round and cutting my knitting at the end. Have I peeked your interest?
Does this give new meaning to "spinning" yarn? Or perhaps knitting in the round? DS (Dear Son) asked us to send him some pictures of his turntables. As long as we had them out, I could not resist the chance for a different backdrop.
I finally had a chance to send my Mom the dishcloth I knitted for her to "put thru it's paces." I had waited a long time to decide to knit the proverbial dishcloth and have now discovered how fun it was to have a quick project! I plan to knit more (in other designs) after I receive feedback on the durability. I used "tried and true" Sugar 'n Cream in the Buttercreme (#19222) colorway. For those who have already knitted dishcloths, you probably recognize this as being "Grandmother's Favorite Washcloth" pattern.
Somewhere I tucked away the left over yarn so I am unable to measure it to let you know how much I had left from the skein. When I come across it, I will update this blog and also list it on Ravelry. The remnant bag was small so it must have fallen down behind something near the computer. I really want it so I can put the ball band and info in the FO (Finished Objects) notebook I am starting.
Paper Arts have been a source of enjoyment for many years for me and I am going to start including some on my blog. Next weekend I have set some time aside to do Polished Stone Technique with a friend and will post pictures. I have added Paper Arts to the header of this blog since that media has shaped the tapestry of my life for many years.
Seeing the dishcloth on a turntable reminded me I took some other fiber related photographs the same day. I am incredibly late in posting this one:
I am in a group called Whoduknit. As you can probably deduce, we all enjoy knitting, reading and solving mysteries. I won the Easter Egg Hunt from a drawing of all who correctly answered the questions. We had to search on our group
blog
and
Yahoo group
site for answers to
12 questions
posted on our Whoduknit blog. I had a lot of fun. As you can see I received a felted Easter basket, a dishcloth (illusion knitting with a bunny face), a knitted hand puppet, some yummy candy and some KnitPicks Shadow in Snorkel colorway.
For those who are interested in the turntables, here is a picture without the fiber. The only time we had to take the photos was when the sun was in full force.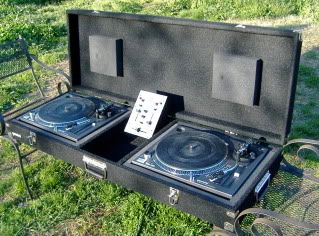 I promise more fiber for your daily diet in my next post.