A Fun Website, Great Book and Magazine!
One of my favorite librarians requested a book on my behalf a few months ago. (My librarians have spoiled me. Occasionally I will head to the shelves where the books I requested online are waiting for me to check them out and there will be a book with a note - "Thought you might be interested in checking this book out."} Where Women Create is a wonderful book showing the studios of various creative women.


I really enjoyed reading about the studios and seeing the wonderfully inspiring pictures. Shortly after this, I discovered there is a magazine with the same name. This is a picture of the cover of their current issue:
I recently purchased the current issue so am still making my way thru the magazine. Not only do the pictures inspire you to create your own creative space, it is fun to read about the variety of talent!
I am adding a link on my side bar to the blog for Where Women Create Blog. Below is the picture they have provided for me. Just right click on the logo and choose to view in a new window. This will take you to their blog while keeping my blog open for you in this window.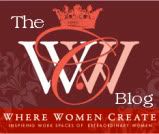 Check their blog often. Currently they have a contest for a gift from
The Knitterly
in California. On their blog you will find meet the owner of
The Knitterly
and you will also see the instructions for entering the contest which ends soon.